Private and Corporate Documents Legalization during COVID-19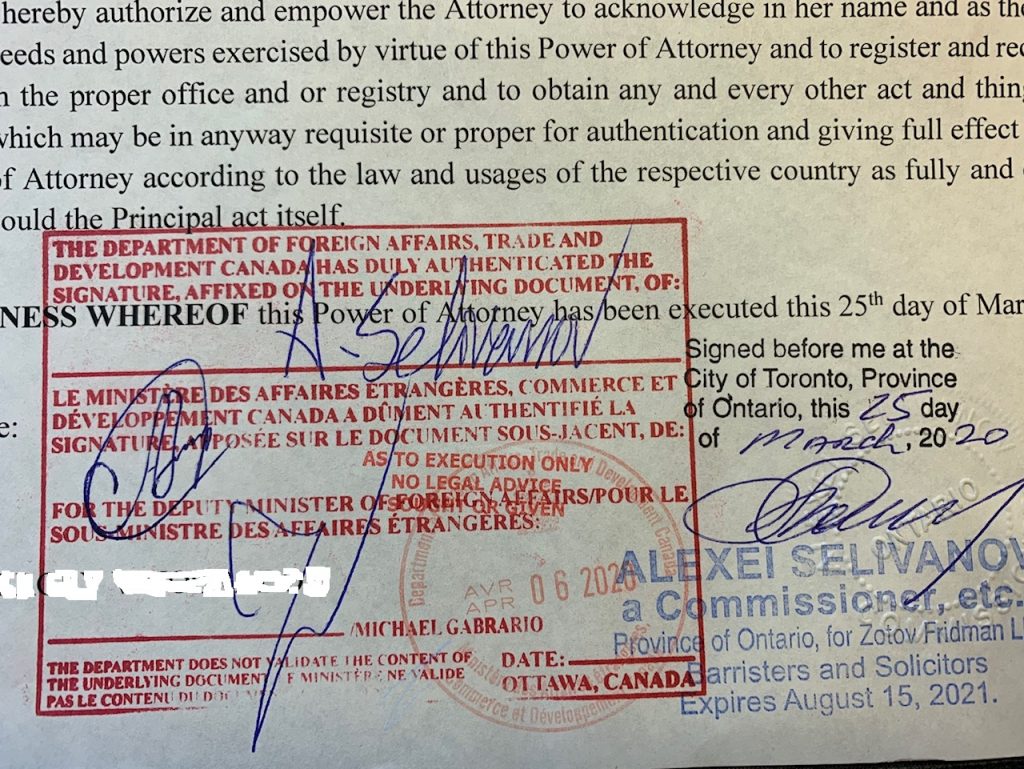 During these difficult times when all of us are pretty locked in our homes, you can still conduct business in a foreign country by obtaining a legalization/apostille stamps on your documents.
Power of Attorney Legalization
With the spread of the COVID-19 worldwide, traveling to foreign countries to conduct international business can be risky. Individuals having business in other countries can legalize/apostille their documents instead. For example, an individual in Canada can legalize a power of attorney to give another individual the ability to act on their behalf in a foreign country. So, you do not need to get a travel visa, fly to other countries, have meetings, etc.

Most transactions in foreign countries may be executed by creating a power of attorney and processing the legalization procedure on that document. Situations that may require a power of attorney but are not limited to are when an individual is selling a home in a foreign country, transferring money, inheritance, business-related transactions, and signing legal documents. Executing a power of attorney will allow you to process international transactions without being personally present. In spite of the closure of most of the consulates for the public, we as the professional agency with long-lasting relationships with most embassies still can do document legalization.

Document Legalization Process
The legalization process is making a document issued in Canada and destined for foreign countries legitimate to use in those countries. It consists of getting a series of authentications on the document. For example, it must get a notary stamp by local Canadian notary or Commissioner, then authentication by Global Affairs Canada, formerly DFAIT, and lastly by the consulate of the country it is destined for.
The following is a short video explaining the legalization procedure. Though it is for UK, it is still valid for Canada.
Each consulate may add additional requirements for legalization. For instance, diploma legalization for the UAE requires that the original transcript must be sent by the educational institution directly to the UAE embassy or consulate. Corporate documents legalization for Kazakhstan requires presenting a corporate profile report and some other documents to the Kazakhstan consulate in Toronto or Kazakhstan embassy in Ottawa. China documents legalization requirements demand that the document must be authenticated by the provincial government. In Ontario, it is done by Document Services. The most popular is the legalization for UAE, legalization for Russia, legalization for Kazakhstan, legalization for Germany, legalization for Panama, legalization for Turkey, legalization for Vietnam, and more.
Benefits of Document Legalization
The greatest benefit of the legalization is that your documents can be accepted in a foreign country without you being there. You can continue to conduct international business with no downtime. Because of the travel restrictions imposed by Canada in foreign countries, it may be difficult to travel to and from certain parts of the word. By obtaining legalized documents, the barriers have now been broken and you can continue to do business in a foreign country. Once you have your document legalized just use any reliable international courier service, like FedEx, DHL, UPS, etc. to send it to the recipient. Note that due to COVID-19 the delivery timing can be extended to some of the destinations.
Most Common Documents
The most common documents we can legalize are a power of attorney, different corporate documents, vital statistics documents, like birth certificates, marriage certificates, death certificates, as well as single status affidavits, RCMP background checks, diplomas, transcripts, petition for a name change, and more.
Please contact our support team for immediate answers to your questions:

Call us: 416-979-4626
Email: info@documentservices.ca or visit our legalization page.

Office hours: Monday – Friday from 9 am to 5 pm (during COVID-19: by appointment only – you may book your appointment online by clicking here or by calling us.)
Live Online Chat is available on our website during these hours.